Automated package scaling with barcode scanning to unified database


Automated package scaling system with integrated 5-axis barcode scanning system based on Datalogic Matrix 300N ID-net network.
Automatic barcode roll-to-roll capturing kit
Roll-to-roll security tags capturing device. Scans Datamatrix and PDF417 barcodes and creates universal database report.
Captures thousand labels in 1-2 minutes.


Date stamp marking on furniture panel.
Solaris e-SolarMark+ Fiber Laser 30W installed in furniture factory. Date stamp marking on furniture panel.

Direct part/packaging marking
Direct part marking, overprinting - consistent, good looking, high quality printout which is a part of the packaging. We can offer you printing/marking devices, which with ease will print variable data on your production, such as valid until dates, batch number, barcodes, etc. Ink-jet, hot-stamping, termal transfer, laser marking print methods - all of those have their advantages and disadvantages - feel free to contact us and we will offer you the print method and devuce that is the best for your application.


Direct print and apply solutions

Industrial automation products for labeling and traceability. According to your requirements, we will offer you the most optimal solution for product labeling, marking, traceability, sorting, defect control, production efficiency monitoring, automation.

We offer you:
• Automatic self-adhesive label applicators with print function, or without, that can apply labels on various forms of products from either side;
• Complete solutions for automatic labelling on various shape products including conveyor sections;
• Thermal transfer or hot stamping printers for print onto flexible roll or leaf-type materials on pouch forming / filling lines or card board layouts;



Labeler to apply labels on 2 walls of pallet
Novex XTP804 Single tag printer
THE PERFECT SOLUTION FOR HIGH QUALITY PRINTING OF SINGLE TAGS, TICKETS AND BLISTER CARDS.
The XTP 804 is designed for high quality printing of single tags, tickets and blister cards based on the NOVEXX Solutions 64-series print module. Equipped with a high performance thermal direct/thermal transfer printer with 4'' print width the XTP 804 is the perfect solution to meet today's high standards of product identification with single tags.

As the XTP 804 can be used for various materials, designs, sizes and thicknesses, the application area is wide, for example in the following industries:

Food (e.g. product information cards)
Automotive (e.g. blister cards for small spare parts)
Electronics (e.g. blister cards for battery components, smart cards)
Apparel (e.g. hang tags, decorative labels, brand tags)
Pharma (e.g. blister cards for pills, dressing material)
Retail (e.g. price tickets, shelf labeling cards)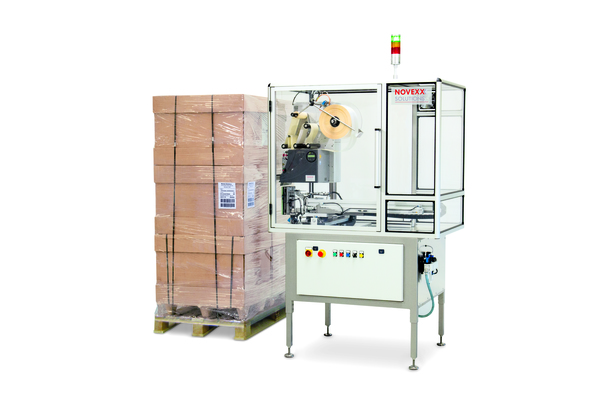 Novexx XPU pallet applicator
NOVEXX Solutions launches a reliable pallet identification solution that meets the requirements of common standards in pallet labeling.

The new pallet labeling unit prints and applies A5 sized, GS1-compliant labels to pallets on two adjacent pallet sides without the need to turn the pallet. The XPU can be installed either on the left or right of the conveyor belt, as required. The compact and robust design means pallet labeler can also withstand the requirements of rough logistics environments.

The XPU is based on the proven ALX 926 Print & Apply system. The system offers convincing arguments thanks to near edge print head technology and, in particular, the top-quality and reliable printing of variable data in real time.

The XPU delivers perfect print results on A5 labels at a resolution of 300 dpi. The pallet labels printed with the XPU also fully comply with the GS1 standard. Optionally, an integrated control scanner checks the readability of the barcodes during the labeling process.



Solutions for automatic labeling
Automatic adhesive label applicator with optional print function, will easily handle monotonic labelling operations on your line. Machines can precisely (no more than 1 mm error) place labels on all the sides of the package with regard to your demands, specifications of the line, product that is packed and the label itself we will give you the optimal solution for labelling. While work force price is increasing many industrial companies employ automatic equipment that does not get tired and is very precise to accomplish these tasks.

We can offer you either only the labelling device, either the complete solution with line section that is essential for specific shape product transportation. Modular systems allow to accomplish different labelling tasks. Specify us your goals and we will provide the solution.